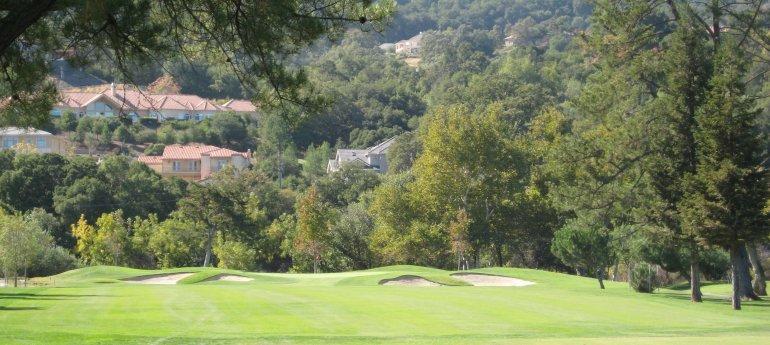 Welcome to Our Community
Castlewood is an oasis just outside the town of Pleasanton, CA, in unincorporated Alameda County. It is a beautiful residential hillside community full of heavily wooded home sites, history, views, and golf. The Community is adjacent to the towns of Pleasanton, Sunol, Livermore, and Dublin providing access to the amenities of this significant metropolitan area.
While situated close to these urban amenities, the Community itself is located on 500 private acres of rolling, wooded land dominated by the Pleasanton Ridge. In addition to approximately 190 home sites, the Castlewood Community includes The Club at Castlewood, a Private Country Club, with a distinctive clubhouse and superb recreational facilities.
The Club prides itself on its two PGA approved 18 hole golf courses, the Hill Course (6,219 yards, par 70) and the Valley Course (6,678 yards, par 72), its sport center with swimming pool and family friendly pool complex, as well as its tennis facilities.
The Castlewood neighborhood is a welcoming community made up of interesting, diverse people who are active in social and volunteer organizations both within and outside of the community. Castlewood residents come from all over the U.S.A. and the world.
Properties range from ranch-style homes on 1/2 acre parcels, to grand estates, to accommodate a wide range of incomes and lifestyles. The town of Pleasanton, according to the US Census, is the wealthiest mid-size city (65K to 249K residents) in the U.S.A. (2005) The school district has 4 high schools, 4 middle schools, 9 grammar schools with a total enrollment of 14,000 students. Las Positas College is located in nearby Livermore, CA.
The Castlewood Property Owners Association is a volunteer organization governed by a Board of Directors.  The board dedicates itself to promoting the best interests of and disseminating pertinent information to the residents and land owners within its boundaries. The purpose of the Castlewood POA and the rights and responsibilities of its members are described in the Association's Articles of Incorporation, By-laws, and Declaration of Restrictions.